Easy to Understand. Easier to Use.
Adventurers, meet your new best friend. As its legendary name suggests, Cerberus is a three-part system that will protect you just as the original three-headed dog prevented people from entering the gates of hell. Imagine having the insurance of a three-headed hellhound in your back pocket that protects you on your adventures.
Starting now, you can use your iPhone® or iPod touch® to send and receive messages from anywhere—and we mean anywhere—on earth. Wherever you go, you will be as reachable as you want to be. You also have the option to receive automated alerts if dangerous conditions exist in your area.
Cerberus gives you peace of mind when you take the road less traveled, because no matter how extreme the locale or circumstance, Cerberus will follow you to hell and back.
Learn more about: CerberLink | CerberTouch | CerberCenter | Brochure
CERBERUS. Get one before you go.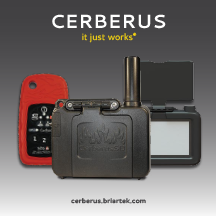 Cerberus. Not the first, but the best way to stay in touch. The Cerberus global communication system lets you exchange messages with friends, family, and colleagues—wherever you are in the world. Cerberus will send you critical alerts, tailored to your exact location. Let your friends ride along by sharing your experience on your favorite social website. Cerberus can even help you get assistance in an emergency.