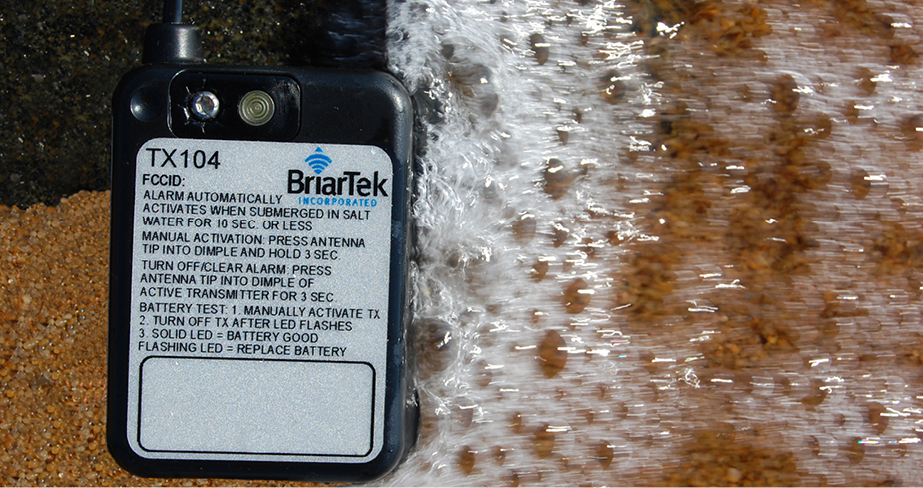 Completes ORCA Installation Across U.S. Carrier Fleet
BriarTek Installs ORCA Life-Saving System Aboard USS Carl Vinson to Complete ORCA
Installation Across U.S. Carrier Fleet
05/24/2010
Alexandria, Va. – BriarTek, Inc., today announced that it has completed installation of its ORCA Man Overboard Indicator (MOBI) system aboard the aircraft carrier U.S.S. Carl Vinson. The installation completes the company's installation of ORCA rescue beacons across the United States Navy's carrier fleet, offering man overboard alert protection to over hundreds of thousands of Navy sailors worldwide.
With more than 100,000 ORCA transmitters in use across a fleet of over 400 U.S. Navy vessels of all classes (including submarines), ORCA is the man overboard indicator of choice for the United States Navy. Today, over 66,000 sailors serve aboard ORCA-installed aircraft carriers. BriarTek's ORCA TX-104
The flagship of BriarTek's ORCA line of man overboard indicator (MOBI) devices, the ORCA TX-104 beacon has proven itself time and again aboard the vessels of the United States Navy, and has saved the lives of dozens of U.S. servicemen and women along the way.
Taking the "Search" out of Search and Rescue
Activated within 3-to-5 seconds of a man overboard submersion in either fresh- or saltwater, ORCA TX-104 signals the ORCA receiver aboard a user's ship and illuminates its integrated strobe light for improved visibility. Once activated, ORCA TX-104 has a 24-hour battery life.
Factory-programmed to signal all other ORCA receivers within range, ORCA TX-104 is the perfect life-saving accessory for use in fleet operations. The model not only broadcasts its user's location, but the user's identification information, as well. ORCA TX-104's beacon can be tracked by any Search and Rescue (SAR) assets utilizing Radio Direction Finders (RDF), and provides continuous relative bearing to the user's location action ac. The unit's trackable distance depends on antenna height and weather conditions, though U.S. Navy experience has documented an effective range of up to 18 nautical miles (nm), aiding in swift and life-saving recovery efforts.
Measuring 2.4 by 1.7 inches, and weighing in at only 2.5 ounces, ORCA TX-104 is significantly smaller than comparable units, allowing for easy integration into a user's work uniform or floatation device. The device may also be worn as a lanyard.