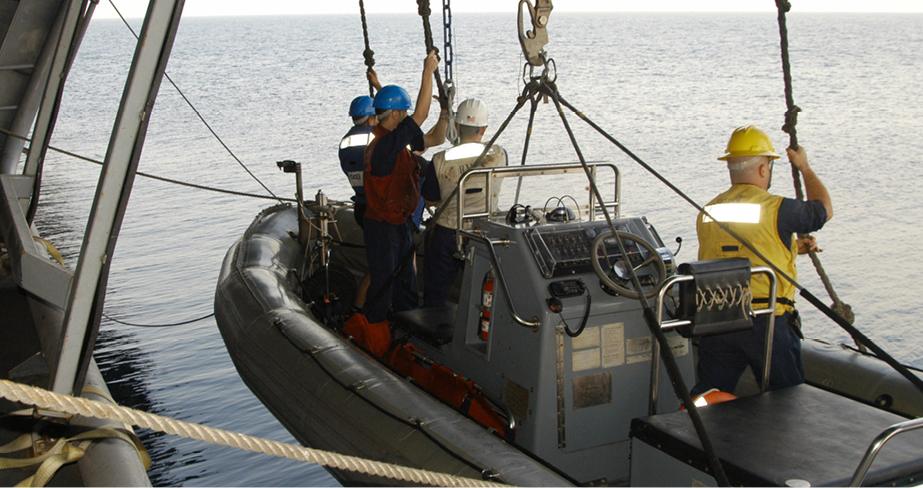 Man Overboard Indicators Help Nimitz Crew
A Sailor or Marine who is accidentally blown off the flight deck of USS Nimitz (CVN 68) has a new piece of technology installed in their MK-1 "float coat" that will assist the ship in locating and recovering them.
Known as the man overboard indicator, or MOBI, the system consists of a small transmitter attached to the float coat; a bridge receiver the size of an answering machine and connected to a whip antenna mounted on the top of the ship's superstructure; and a direction finder. The bridge-mounted direction finder shows the signal's relative bearing. There are also portable direction finders in each of the ship's rigid hull inflatable (RHIBs) so that boat teams can track the signal once they are off the ship.
MOBI transmitters are attached to all float coats and Kapok life preservers on board Nimitz. In all, there are more than 1,500 MOBI transmitters on the ship.
How does the system work? When a person falls overboard, the transmitter in the float coat activates automatically, explains Chief Warrant Officer 3 Terry Norris, Ship's Boatswain. The signal can also be manually activated using the on/off switch. The bridge-mounted receiver receives the signal, an alarm sounds on the bridge to signal that someone is in the water, and the LCD on the receiver displays the serial number of the transmitter in the water. The direction finder, mounted by the Officer of the Deck (OOD) station on the bridge, then displays the relative bearing of the transmitter in the water.
Norris said each department with MOBIs has been issued batch serial numbers. When a transmitter is activated, the bridge team can look up the serial number and determine which department owns the float coat and, in some cases, who was issued the float coat.